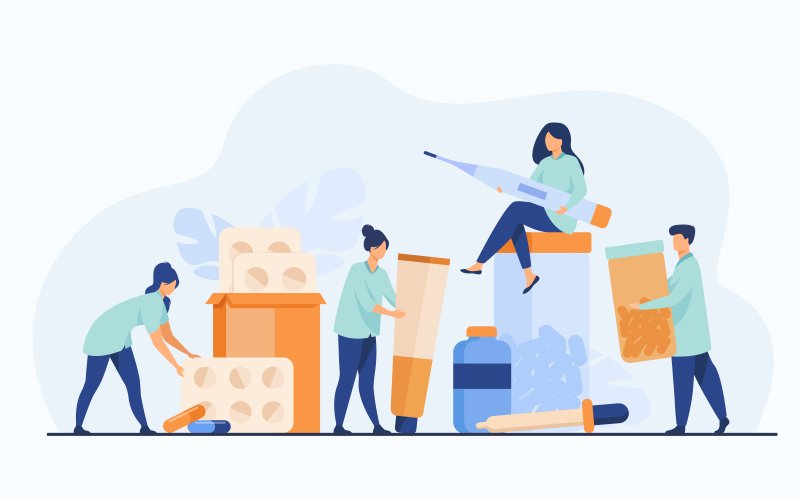 27.02.2023
Top 6 benefits of implementing CRM in the pharmaceutical industry
Across industries, CRM systems help track business processes, customer and employee engagement. The role of CRM is especially important for the pharmaceutical industry.
The pharmaceutical industry combines many processes, from manufacturing to product distribution. Such complex processes require streamlining and automation. Small and large pharmaceutical companies need effective data management and face different challenges every day.
Why is CRM in the pharmaceutical industry so important?
How can your company benefit from this solution?
You'll find the answers in this article.
Why pharmaceutical companies need CRM?
One of the main tasks of pharmaceutical companies is to effectively sell their products and have a permanent presence on the market. To do this, sales representatives constantly find potential customers and build a close chain of relationships with regular ones. But without information about the customer, the history of recent requests and needs, the quality of customer service declines dramatically.
CRM system in this case helps to improve the relationship between customers and the company through sales representatives. Imagine that a sales representative of your company has a list of all customers, their rating, order history, wishes and comments. In this case it is much easier for the sales representative to build a relationship with the customer, which will positively affect the company's sales.
CRM system for pharmaceutical companies helps to manage the client base, customer relationships, improve the sales representatives and sales chains. With the help of CRM system can improve the efficiency of sales and marketing, as well as effectively monitor the relationship with customers and employees.
In addition to sales and customer relationships, CRM system can help simplify and automate routine tasks such as collecting statistics, reports, paperwork. All of this can be done in one environment based on all customer and product information. With such a CRM you can quickly and efficiently build the internal processes of the company: schedules, work plans, sales volume forecasting, business development and growth strategies. CRM system helps to unite all business processes in one environment and control them.
How can the pharmaceutical industry benefit from the introduction and development of their own CRM?
Above we looked at why pharmaceutical companies need a CRM system. Now let's look at each benefit in more detail.


Top 6 benefits of developing and implementing a CRM-system in the pharmaceutical industry.


✅ Process Automation
Automation is evident in almost every industry and in every area of our lives. Not surprisingly, it also benefits the pharmaceutical industry on many levels. For example, you get the ability to import data from various sources in just one click. This gives you a handy package of useful insights for your sales team and their collaboration with distributors or pharmacy staff, and with physicians. With this comprehensive view, you can quickly analyze results and adapt to current market trends.
Automated processes are very useful in creating a drug database with detailed descriptions of each of your products. By gathering all this data in one system, you can manage pricing and plan more effective sales strategies.
As a result, you can maximize the efficiency of your company's entire workflow.
✅ Integrated customer database
Doing all the bureaucracy on paper would be a tedious and complicated task. It's also inefficient. Implementing the right CRM will solve all your problems with unorganized data.
With a CRM, you'll collect and store customer data and use it to make quality management decisions. If you have your own IT infrastructure, choose a CRM that allows you to exchange data between your system and the new tool. In this way, you create new potential for data analysis.
Connecting all systems and departments in your company will optimize your overall workflow. Every employee will have access to the data they need when they need it. In addition, data navigation, analysis and planning of future sales and marketing strategies will become much easier.
✅ Tracking customer engagement
To make sure you're delivering satisfactory products and services to your customers, you need to track their actions, document their experiences, and let them interact with your brand. And what better way to do that than with a CRM system.
With a CRM, you'll manage your customer database and offer customized offers. You'll see clearly what your customers need and how to meet those needs.
Based on the customer journey, you will have access to their interactions and communication history. With this broad range of data, you can tailor your services to be useful and proactive with respect to customer requests.
✅ Improving customer interaction
It's a good idea to involve customers in marketing and sales strategies in the pharmaceutical industry. This approach will help you get ahead of the competition. A CRM-based plan, lets you know what your customers want, reduces resources and saves you valuable time.
Customers are very willing to cooperate. By involving them in sales and marketing processes, pharmaceutical companies gain an improved understanding of what works and what doesn't. Customers are eager to share their health and treatment data to help others and get better treatment. In this way, you get firsthand advice on how to adjust your services for greater profitability.
✅ Optimized lead management
Every time a lead is generated, the data is stored in your CRM system. In this way, you track customer and employee interactions. The amount of data can range from transcripts of sales calls to website chats, form submissions and document downloads. This is beneficial for the pharmaceutical industry because it allows you to collect more accurate information and better understand which channels are most effective.
It's a practical solution for the sales team, as they recognize early on whether a lead is ready for conversion by charting the behaviors that lead to a purchase decision
✅ Optimized products and services
CRM helps achieve efficient inventory management. When all the little data, even things like detailed instructions on how to store medications, are collected in one database, they are easy to store and specific information can be accessed quickly.
Conclusion
It is safe to say that CRM in the pharmaceutical industry is not a luxury, but a necessity. Pharmaceutical companies of all sizes should implement at least one CRM-based tool to run their business successfully.
You can combine many different CRM tools, choose the one that meets most of your requirements, and create your own software to manage your business processes. The possibilities are many, but the goal is always the same. A well-designed CRM optimizes the use of resources, reduces costs, speeds up company processes on many levels and in various departments, and saves you time. This way, you can focus on planning new strategies and initiatives to grow your business.
Sounds appealing, doesn't it? If you're looking for the right CRM for your business or aren't yet using a CRM (but want to get started), contact us for a consultation.
IC Studio specializes in custom business software development, and we'd love to advise you on creating a CRM system for your company.