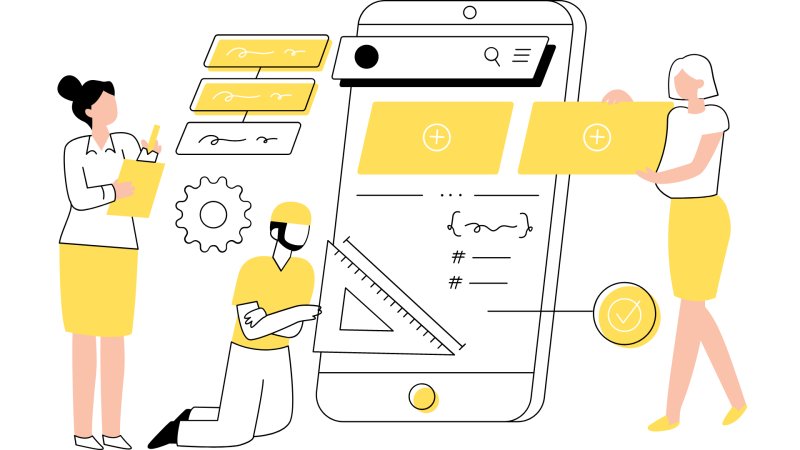 08.09.2020
Who will win in development: in-house specialist, freelancer or agency
If your company is not online, it probably won't be for long. These days, not having information about you or your company online is tantamount to not being in the eyes of the user, even if your business is in no way online. Companies and professionals who are not represented in any way online have a harder time forming more trusting relationships with customers, both their current base and potential new customers. In this article, we want to address the question of who better to trust to develop web projects: an in-house specialist, a freelancer or an agency. By default, we agree that by web solutions we mean a wide range of developments: from simple sites, to the creation of complex platforms and portals, mobile applications, customer billing systems, and so on. Because all these solutions, in the end, act as a springboard between the selling company and the end user and are designed to generate revenue for the company.  
Before you make the final decision with which specialist/team to work on creating web solutions for your business, at first we suggest you to answer a few questions for yourself:
1. Complexity of the web-solution you need to create: will it be a business or corporate website, online store, portal, mobile application, personal account, billing system for payment, CRM for company employees, etc.?
2. What task/objective do you want to solve first of all, and in the long term, by creating a web-based solution? For example, to tell about your company to new users on the Internet, to improve the quality of work with your customer base and increase profits, to create a payment management system, etc. Depending on the complexity of the tasks, different levels of professionalism of both individual specialists and entire teams will be required.
3. What budget do you have for this task at the moment, and how much are you ready to invest for development in the future?
4. Do you have specialists inside your team for independent implementation (by "specialists" you mean people who are competent in technical questions, like programming, design, etc., as well as specialists who can take on the tasks of quality control of the product and the quality of work of specialists who will create this product).
5. Can the created product in the foreseeable future become a key channel of the company's profit.
Anticipating the objection of the readers of this article that you can create a website on the website builder yourself, and not to pay the developers, we can add that modern designers really are very functional and give the opportunity to create very functional solutions. However, in terms of economics, if you are an effective entrepreneur, creating a website, an hour of development will be worth a real hour of your time. Given that the hourly rates in good agencies start, on average, from $20-25/hr, the time of the vast majority of managers is worth many times more.
Advantages and disadvantages of in-house professionals, freelancers or agencies to develop web solutions for businesses. 
Let's start with the facts to consider when hiring in-house professionals and the pros and cons of hiring an in-house development team. 
Pros: 
1. The in-house team is only immersed in your project, due to this, often digging deeper into the specifics.
2. Speed of information exchange and feedback, due to working under one roof. It is important to remember that speed does not always equal quality.

Cons:

1. The real cost of a specialist hour you hire will not be equal to salary divided by 160 hours (on average). When creating an internal team, you also budget for workplace organization, vacations and sick leave, team leader resources, training/conferences/courses, unpaid time (planning sessions, for example), taxes. Also add to that the risks in case an employee leaves, and finding a new one to hand over the project. As a result, the hourly rate may come out even higher than the rate in the teams of strong agencies.
2. For simple projects creating an in-house team will be economically unjustified, for complex ones it can contain a huge number of pitfalls: from the level of competence or incompetence of the hired employees (which can be estimated incorrectly at the hiring stage if the development is not your product, and there is no technical director within the team who is qualified at the level of a team leader). 
3. from the previous point often results the total time of development of the solution and the increase in its cost. If you are not lucky and you have not hired sufficiently competent specialists, they will get bumps on your project and it will take them many times longer to do what a team of professionals will do. As a consequence, the cost of development will increase, and with it the payback period of the solution. 
Now let's understand when it will be optimal to work with freelancers and who is suitable for such an option. 

The advantages of working with freelancers:
1. As a rule, a freelancer costs less than an in-house specialist and agency.
2. Can work outside the norm (in-house developer or studio programmers, work more often "from call to call. Although, realities are still closer to the fact that both in-house specialists, both their own and a partner agency, will work overtime if necessary).
3. Nowadays, the number of freelancers with a strong level of competence is higher than before, another thing is that finding really cool professionals is by no means easy. More often than not, they are loaded months in advance, as clients recommend them to each other.



Minuses of working with a freelancer: 
1. Freelancers are more likely to need more supervision from the customer (this reads as "the freelancer's rate will increase by the value of your time that you spend on additional supervision).
2. Most often customers have friction on the basis of conflict of understandings with freelancers, because the latter are often ready to start the project without a clear statement of work (which implies that the parties have a mutual understanding of what the final product should be). Plus - freelancers often save on formal business activities, they do not register FOP / PE, and thus do not conclude contracts, which is the minimum guarantee of compliance with start-up agreements in the course of joint work.
3. Cooperation with a freelancer is also an unsuitable option for solving complex tasks and developing complex products, because one specialist cannot physically know everything, even within a single technology, and given that complex projects often involve the use of different technologies - this is also a risk zone of possible incompetence.
4. Freelancers often incorrectly estimate the cost of project implementation, both overestimating (which is not profitable for the customer financially), and underestimating (which is even worse, because in the case of really big rework conflicts are sure to occur, and it will be necessary either to revise the cost of work or say goodbye).
Let's move on to an analysis of the factors for working with web studios and web development agencies.
Pros of working with an agency in product development: 
1. High level of competence of team members, due to working with a large number and variety of projects, as well as the presence of a system of training and professional development at the system level.
2. a higher level of project management due to a clear division of functions within the team. The studios always have a team leader (whose monthly salary can be more then $3000-10000), programmers with different qualification level and knowledge of complementary technologies, which allows to implement more complex projects in shorter terms, while keeping the bar high enough in product quality. And then there are project managers, who will not only relieve technical specialists from communication, leaving them the opportunity to deal with the project, but also manage the tasks, are your hands in the team, working perfectly with the priorities and prevent the risks of deadlines failure or miscommunication, as they actually act as a liaison and "translator" from the client language to the language of programmers.
3. The actual cost of working with the studio is often more competitive than the cost of organizing a team in-house, since the agency, the development is the main product, and therefore the "production of the final product" is optimized, and therefore optimized and the cost of work.
4. Higher level of professionalism due to realization of more commercial projects, allows to foresee the risks that can arise before the cooperation starts, and thus avoid mistakes, which otherwise would be critical and lead to losses of the company.
5. External specialists, though not your employees and not only immersed in your project, can look at the business and solution with an unshadowed eye, and offer a fresher solution than you thought up for yourself.
6. Accountable for the quality of the product and meeting contractual obligations, as they work officially and value their reputation and name.
7. Have the ability to complete tasks "turnkey" because most often there are both developers and designers, designers, copywriters, content managers, SEO, marketers, etc. 8. Beginning work only on the basis of pre-agreed terms of reference, which avoids conflicts on the basis of misunderstanding.
Disadvantages of working with external development team:
1. As in any profession, it may take time until you find "the very contractor" who is suitable for you on the maximum number of criteria, while matching your budget.
2. Because this is an outside team, it takes more time to coordinate the intermediate stages.
Summary.
When deciding who to work with to develop web solutions, pay attention to factors such as:
1. The complexity of the product you need.
2. The level of technical literacy and competence of your team members, both within your team, and in the contracting team, if you plan to delegate the task to outsourcing (verified by the examples of previously implemented similar solutions).
3. What specific weight the product/channel/resource you plan to create will have in future profit generation for the company.
4. How much are you willing to invest in creating the appropriate solution now and how much are you willing to invest in the future (in the context of both money and time).
If this article was useful for you, share it with your friends/colleagues, or on social networks. We would be very pleased.